Tasting WineStyle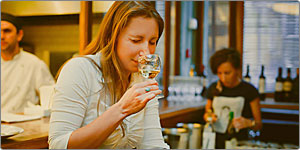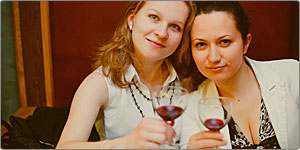 Take a look at photo reports of our previous events. Come to spend a pleasant time in a cozy, friendly atmosphere in order to learn a lot about the world of wine.
Our thematic wine events— is a unique opportunity to taste new wines. An experienced sommelier will help you to learn more about wine geography, producers, grape varieties. Will introduce you with the most famous wine regions and its features. You can learn to recognize different nuances, as well as understand the language of wine.
We know that the wine tasting— is not only just wine, but also an opportunity to meet new people, exchange opinions with interesting people - wine lovers. The best place to start a conversation is the one where you hold a glass of fine wine in your hand.
Master class "Wine briefing" in the restaurant "Neglinny Verkh" April 24, 2013. We held an interactive evening. Guests were able to take part in a master class to choose the wines and to do a blind tasting!
Tasting of "Noble Calvados - Normandy Amber" in the restaurant "Neglinny Verkh". We conducted our first tasting of a strong drink on February 21, 2013. On the eve of men's Holiday we decided to make a gift to our defenders and give them an opportunity to enjoy the noble Calvados!
New year wine tasting "Pino New Year" in the restaurant "Neglinny Verkh" December 13, 2012. We summarized the wine year by tasting the most wonderful and so different Pinot Noir, also compared it with dancing and textures!